Regulation 14 Consultation 26 June to 21 August 2020
The Crowmarsh Parish Neighbourhood Plan is now subject to a formal eight week consultation period. You are invited to review the documents available on this page and submit comments by email to the Parish Clerk at [email protected] . Alternatively, you can post comments through the letter box at the Crowmarsh Pavilion in the Rec. The Parish Council is particularly keen to hear comments that will strengthen the Plan but would also like to receive comments on the suitability of the Plan with regard to your own vision for the Parish over the next 15 years.
Public question and answer sessions will be held in August in the grounds of the two village halls – dates and times to be announced.
Paper copies of the Plan are available from the Crowmarsh Village Shop and in North Stoke from Cllr Stuart Soames. Please help distribute these to households that you know that may not have access to the internet.
The Parish Council and the Plan Steering Group look forward to your responses to this invitation which must be submitted by 21 August. Please note that all responses will be catalogued and may be published in the Consultation Statement, see Privacy Statement below. The Consultation Statement will also provide details of consequent changes to the Plan and draft SEA report as the outcome of the Consultation process.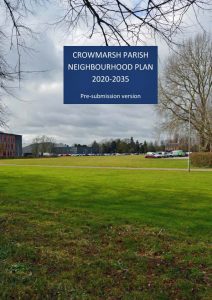 Crowmarsh Parish Council is pleased to be able to publish the Pre-submission version of the Crowmarsh Parish Neighbourhood Plan 2020-2035, ready for consultation. The Plan, the supporting evidence reports – Appendices 1 through 5 of the Plan, the draft Strategic Environmental Assessment (Appendix 6c, supported by 6b and 6a) and the posters intended for public meetings are available here to download as pdf files.
We had intended to commence the Statutory Regulation 14 Consultation process at the end of March. However, we have been advised by the Local Planning Authority to postpone doing this in order to ensure that those who are at increased risk of severe illness from coronavirus (COVID-19) are given a fair opportunity to engage in the process, and also to allow hard copy material to be made available to those without access to the internet.
If you wish to submit comments on the Plan In the meantime, please send them by email to the Parish Clerk at [email protected] Your comments will be held over until such time as the Regulation 14 Consultation has taken place. We are particularly interested in suggestions that will strengthen the Plan.
2_Environment Heritage Evidence
4 Landscape Survey Impact Assessment
5_Employment Use Site Assessment
6c Draft Strategic Environmental Assessment
Crowmarsh NP Consultation Boards
Archive
Local Neighbourhood Plan discussion meetings
The Steering Group responsible for developing your Crowmarsh Parish Neighbourhood Plan is hosting meetings at Crowmarsh Gifford School on Tuesday 13 March and North Stoke Village Hall on Thursday 15 March, both starting at 7.30 pm. The purpose of the meetings is to explain what has been achieved so far and to put the preliminary findings to you for discussion and informal consultation.
30 April 2018
Landscape Survey Impact Assessment-min
Revised:
Environment Heritage Evidence-2
9 March 2018
1 February 2018
Site Assessment in Crowmarsh Gifford
25 January 2018
Landscape Survey Impact Assessment Report
18 January 2018
Housing Needs Assessment Report
4 November 2017
LNP Survey September 2017 Report
PAST EVENTS:
Saturday 23rd September (10am-4pm): Neighbourhood plan exhibition
at Crowmarsh Gifford Village Hall. Please come and learn about the Neighbourhood Plan process and share your ideas.
Saturday 30th September (10am- 4pm: Neighbourhood plan exhibition
at North Stoke Village Hall. Please come and learn about the Neighbourhood Plan process and share your ideas.
31 August 2017
Environment and Heritage Evidence report is now available.
09 July 2017
Local Community Plan Baseline Report is now available.
The Baseline Report identifies the key social, environmental and economic characteristics of Crowmarsh Parish. It provides a shared resource and reference point for all parties contributing to the Neighbourhood Planning Process. It is nevertheless a live and evolving report.
15 April 2017
At the April Parish Council meeting it was decided that the Parish will work towards making a Local Neighbourhood Plan. There are various aspects of the plan including:
Sustainable Community,
Housing,
Environment,
Industry and Jobs,
Resources, including schools and medical care
Transport, including air quality in Wallingford.
If you would like to get involved, please get in touch:
Sue Rance (Parish Council Clerk): [email protected]
or Nick Robins: [email protected]
First draft: Possible list of Crowmarsh Parish Policy Statements for our LCP