Footpaths and bridleways
1. As we begin to get out and about more, social distancing could be harder to achieve, but it is still necessary to stop the spread of the coronavirus. The County Council is working with towns and parishes to make more space for walking and cycling to enable safe distancing. 
Please see the OCC guide to using footpaths and other rights of way safely:
https://www.oxfordshire.gov.uk/sites/default/files/file/countryside-walks-rides/AccessToPublicWaysCoronavirus.pdf
2. Cycling on the pavement over Wallingford Bridge is illegal and antisocial. It makes social distancing very difficult. Please do not cycle on the pavement: use the road. If you feel unable to cycle on the road, please push your bike across the bridge and keep a safe distance at all times. 
Local coronavirus advice 
Latest advice and local information from SODC (updated daily) including: local support lines, council tax, waste collections, advice for businesses and job seekers, COVID-19 scams, leisure and community centres, planning and building control:
Coronavirus advice
Specific advice for a range of settings including travel advice, advice on educational settings, guidance for employers, employees, self-employed people, those in health and care sector is also available at the following link. This is updated as appropriate: https://www.gov.uk/government/topical-events/coronavirus-covid-19-uk-government-response
NRS HealthCare Hand it Back Request
Due to COVID-19,
NRS HealthCare
is asking people to return health care equipment they no longer need: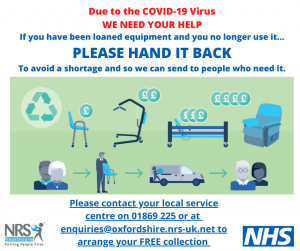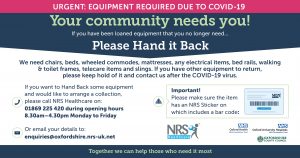 Crowmarsh Playground and Outdoor Gym update
March 26, 2020: In line with Government guidance, Crowmarsh Playground and Outdoor gym will be closed until further notice.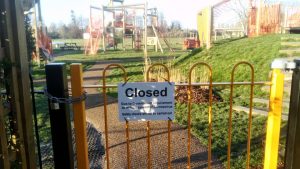 Coronavirus and Crowmarsh Playground and Gym
March 22, 2020
Residents will be aware of the Government advice to maintain social distancing, which means maintaining a minimum of 2 metres apart from other people. This is very important to slow the spread of the coronavirus and allow the NHS to manage it.
We are waiting for further guidance on what that means for our play area and for advice from South and Vale District Councils who run over 40 playground areas. At the moment we are keeping the external toilets open for people to wash their hands. We encourage everyone to wash hands thoroughly before and after using the play area and gym and more often if there longer.
The play area may have to be closed and we will keep you informed via this website and notices on Facebook.
Crowmarsh Parish Council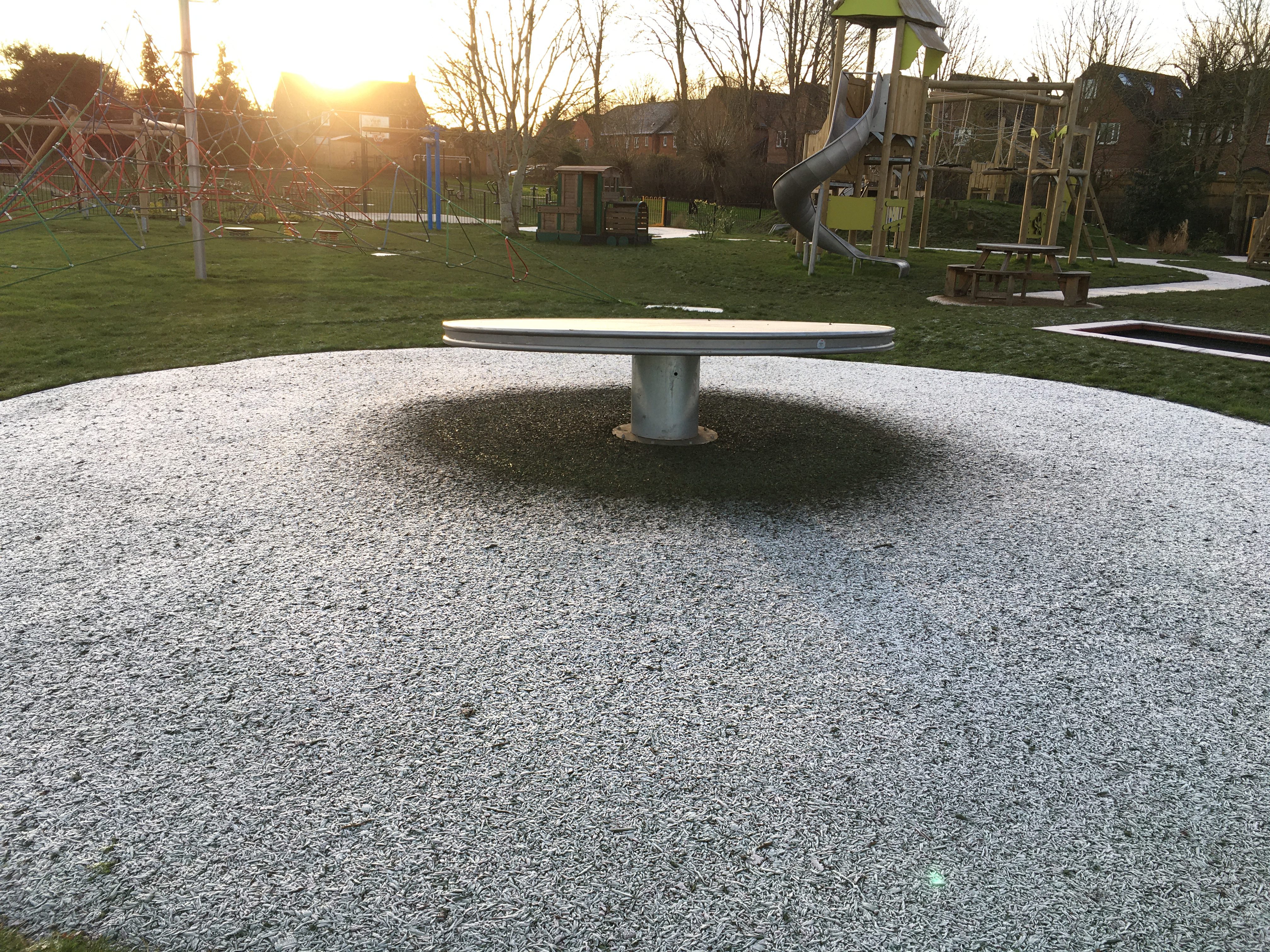 Slowing the spread of Coronavirus
March 22, 2020
It is extremely important to slow the spread of the coronavirus and save lives. Don't go out unless you really have to, avoid crowds and stay 2m away from other people:
Coronavirus: social isolation tips
March 22, 2020
Good tips during social isolation: https://www.campaigntoendloneliness.org/blog/coronavirus-and-social-isolation/?fbclid=IwAR23SCCkOJKi9yWGTPazatqrBc2iRR7AYltZjgyCmR3_OxN2isoYhTafaZY
Coronavirus Support – Facebook Group
March 22, 2020
Help is available in the Crowmarsh community if you are isolating at home and need support, shopping, someone to talk to: