Neighbourhood Plan
The final version of the Neighbourhood Plan can be found below. 
The Big Jubilee Lunch 2022 – Crowmarsh
Sunday 5th June 2022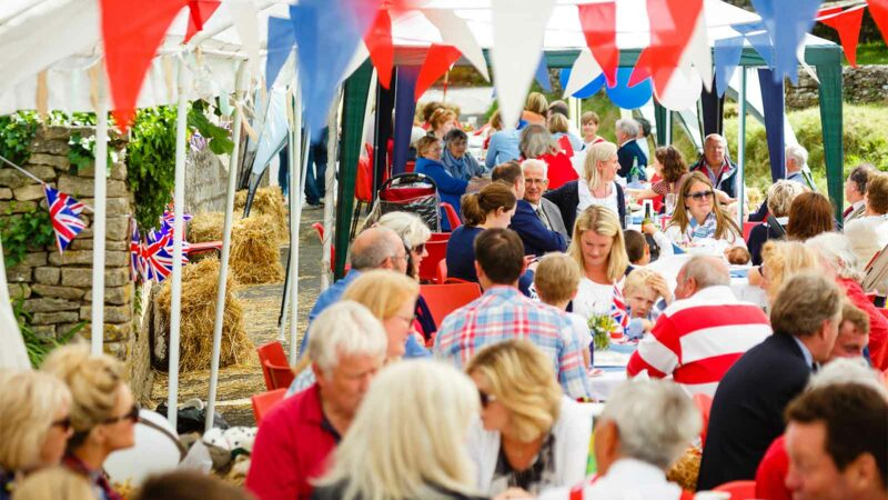 A Crowmarsh community celebration – Sunday 5th June 2022
Please see below an update on the proposals for the Big Jubilee Lunch at the Village Hall. This will be at the end of an extended bank holiday from Thursday 2nd to Sunday 5th June.
It is proposed that:
The lunch event is from 12.30. The main entertainment will continue up to 4.30.
There will be a jazz band.
There will be various items for sale, for the benefit the local organisations that sell them:

A BBQ – Cubs and Beavers.

Cakes and hot/cold drinks – local church

Ice cream and lollies – School PTA

A bouncy castle – School PTA
There is to be jubilee cake and flower competitions for children and adults
Please bring along a picnic and blanket/chairs. Some Marquees, tables and chairs will be provided for inclement weather.
The car park will be closed and used for entertainment, including Bouncy castles, swing boats and large patio type games.
As we have no idea of how many will attend, it would be helpful if you could email Sue Rance on 

[email protected]

 if you currently hope to, to give us an idea of numbers. Please let her know if this changes. This would also allow Sue to update you with any updates on the event.
Please also let Sue know if you would be available to help put up and take down marquees or setting up table, chairs etc. on the 4th and 5th
If you have any large-scale games such as Jenga, or 4 in a row you would be willing to lend for the event please let Sue know.
In the evening there will be a Barn Dance. A band with a caller has been booked. This will be a ticketed event on a first come first served basis, due to a limit on numbers in the hall. Please note all those that have e-mailed Sue Rance to say they will be attending the lunch will be sent details and prices first, in due course. Until then bookings cannot be made.
We really hope you will be able to come and take part in this local event to help make it a special occasion. Please note it in your diary and let Sue Rance know if you hope to attend.
The event is being organised on behalf of Crowmarsh Parish Council.

3 September 2021:
Neighbourhood Plan referendum – result
The Crowmarsh Neighbourhood Plan has passed the referendum. Thanks to all for support, and particularly to Nick Robins and Nigel Hannigan for a lot of hard work along the way.
374: Yes
13: No
Turnout: 28.3 %
23 July 2021:
Crowmarsh Neighbourhood Plan Referendum


9 August 2021:
The final supporting document to the Neighbourhood Plan is Appendix 9 Cheshire East:
10 July 2021:
Heritage Assessment
A Heritage Assessment was commissioned during the examination phase of the plan to better understand the setting of Howbery Court in the context of the allocation of a small plot of land for employment use. The Heritage Assessment provides an interesting account of the Manor and the adjacent Stables Complex.
21 June 2021:
The Inspector's Report is now available. For up to date progress with the Neighbourhood Plan please go to https://www.southoxon.gov.uk/south-oxfordshire-district-council/planning-and-development/local-plan-and-planning-policies/neighbourhood-plans/emerging-neighbourhood-plans/  and click on 'Crowmarsh Neighbourhood Plan'.
Crowmarsh-Parish-Neighbourhood-Development-Plan-Examiners-report
20 January 2021:
Crowmarsh Neighbourhood plan – Have your say
REGULATION 16 CONSULTATION
Crowmarsh Parish Council is working on a neighbourhood plan, which has recently been submitted to South Oxfordshire District Council. You can view the neighbourhood plan and supporting documents on the District Council website: https://www.southoxon.gov.uk/crowmarsh-neighbourhood-plan

The District Council is carrying out a consultation on the submitted neighbourhood plan and supporting documents which will run from Tuesday 19 January to midnight on Tuesday 9 March 2021.

Paper copies of the document are available to view by appointment only. Please contact John Griffin by calling 01491 838523 or Stephen Sherbourne by calling 01491 837569 to arrange to view the documents.
 
If you know anyone you think would be interested in this consultation, who is shielding or does not have access to the internet, we would appreciate your help in telling them about it. Please ask them to call us on 01235 422425 or email [email protected] to discuss the proposals and get support to access the consultation materials.

Comments can be made by scanning the QR code on the poster below to go to the online comments form or:
emailing 

[email protected]

writing to Planning Policy, South Oxfordshire District Council at the following address: 135 Eastern Avenue, Milton Park, Milton, OX14 4SB
After the publicity period ends, the District Council will send your response to an independent examiner to consider. As the neighbourhood planning process includes an independent examination of the plan, your name, postal address and email address (where applicable) are required for your comments to be considered by the examiner. The opportunity for further comments at this stage would only be at the specific request of the examiner.
All personal data will be held securely by the council and examiner in line with the Data Protection Act 2018.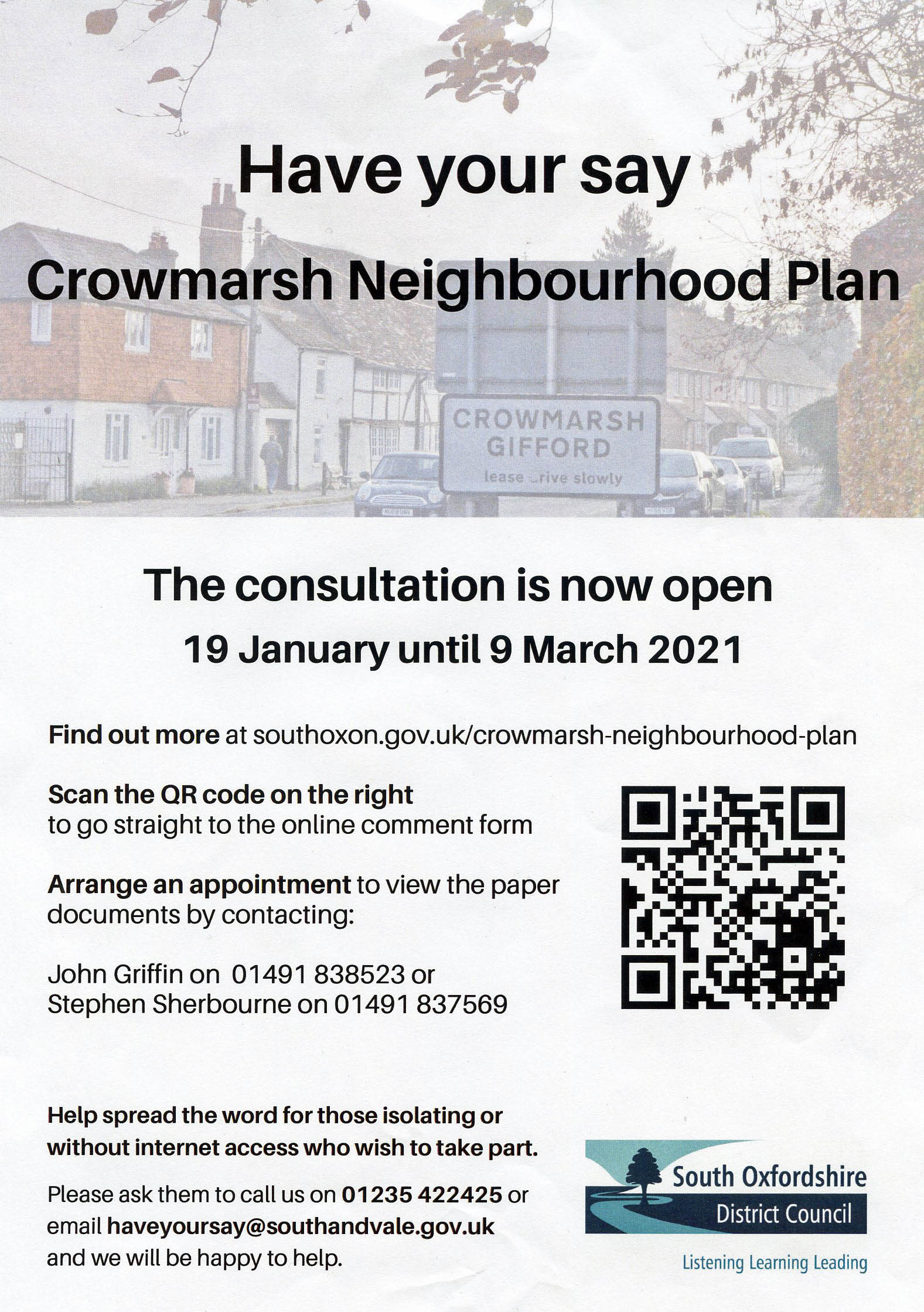 ---
Plan Submission for Examination
The Crowmarsh Parish Neighbourhood Plan and its ten supporting documents were submitted to the Planning Authority for examination under Reg 16 on 2 December 2020. The Submission version of the plan along with the Consultation Statement and the Basic Conditions Statement are adjacent as downloadable pdf files. The other supporting documents are archived below.
0_Submission Version Plan Crowmarsh
8_Basic Conditions Statement_November 2020_Final
Regulation 14 Consultation 26 June to 21 August 2020
The Crowmarsh Parish Neighbourhood Plan is now subject to a formal eight week consultation period. You are invited to review the documents available on this page and submit comments by email to the Parish Clerk at [email protected] . Alternatively, you can post comments through the letter box at the Crowmarsh Pavilion in the Rec. The Parish Council is particularly keen to hear comments that will strengthen the Plan but would also like to receive comments on the suitability of the Plan with regard to your own vision for the Parish over the next 15 years.
Public question and answer sessions will be held in August in the grounds of the two village halls – dates and times to be announced.
Paper copies of the Plan are available from the Crowmarsh Village Shop and in North Stoke from Cllr Stuart Soames. Please help distribute these to households that you know that may not have access to the internet.
The Parish Council and the Plan Steering Group look forward to your responses to this invitation which must be submitted by 21 August. Please note that all responses will be catalogued and may be published in the Consultation Statement, see Privacy Statement below. The Consultation Statement will also provide details of consequent changes to the Plan and draft SEA report as the outcome of the Consultation process.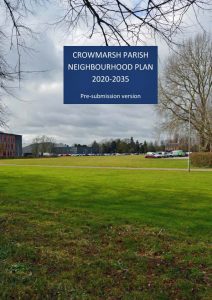 Crowmarsh Parish Council is pleased to be able to publish the Pre-submission version of the Crowmarsh Parish Neighbourhood Plan 2020-2035, ready for consultation. The Plan, the supporting evidence reports – Appendices 1 through 5 of the Plan, the draft Strategic Environmental Assessment (Appendix 6c, supported by 6b and 6a) and the posters intended for public meetings are available here to download as pdf files.
We had intended to commence the Statutory Regulation 14 Consultation process at the end of March. However, we have been advised by the Local Planning Authority to postpone doing this in order to ensure that those who are at increased risk of severe illness from coronavirus (COVID-19) are given a fair opportunity to engage in the process, and also to allow hard copy material to be made available to those without access to the internet.
If you wish to submit comments on the Plan In the meantime, please send them by email to the Parish Clerk at [email protected]. Your comments will be held over until such time as the Regulation 14 Consultation has taken place. We are particularly interested in suggestions that will strengthen the Plan.
2_Environment Heritage Evidence
4 Landscape Survey Impact Assessment
5_Employment Use Site Assessment
6c Draft Strategic Environmental Assessment
Crowmarsh NP Consultation Boards
Archive
Local Neighbourhood Plan discussion meetings
The Steering Group responsible for developing your Crowmarsh Parish Neighbourhood Plan is hosting meetings at Crowmarsh Gifford School on Tuesday 13 March and North Stoke Village Hall on Thursday 15 March, both starting at 7.30 pm. The purpose of the meetings is to explain what has been achieved so far and to put the preliminary findings to you for discussion and informal consultation.
30 April 2018
Landscape Survey Impact Assessment-min
Revised:
Environment Heritage Evidence-2
9 March 2018
1 February 2018
Site Assessment in Crowmarsh Gifford
25 January 2018
Landscape Survey Impact Assessment Report
18 January 2018
Housing Needs Assessment Report
4 November 2017
LNP Survey September 2017 Report
PAST EVENTS:
Saturday 23rd September (10am-4pm): Neighbourhood plan exhibition
at Crowmarsh Gifford Village Hall. Please come and learn about the Neighbourhood Plan process and share your ideas.
Saturday 30th September (10am- 4pm: Neighbourhood plan exhibition
at North Stoke Village Hall. Please come and learn about the Neighbourhood Plan process and share your ideas.
31 August 2017
Environment and Heritage Evidence report is now available.
09 July 2017
Local Community Plan Baseline Report is now available.
The Baseline Report identifies the key social, environmental and economic characteristics of Crowmarsh Parish. It provides a shared resource and reference point for all parties contributing to the Neighbourhood Planning Process. It is nevertheless a live and evolving report.
15 April 2017
At the April Parish Council meeting it was decided that the Parish will work towards making a Local Neighbourhood Plan. There are various aspects of the plan including:
Sustainable Community,
Housing,
Environment,
Industry and Jobs,
Resources, including schools and medical care
Transport, including air quality in Wallingford.
If you would like to get involved, please get in touch:
Sue Rance (Parish Council Clerk): [email protected]
or Nick Robins: [email protected]
First draft: Possible list of Crowmarsh Parish Policy Statements for our LCP