Including an exhibition of historic village photographs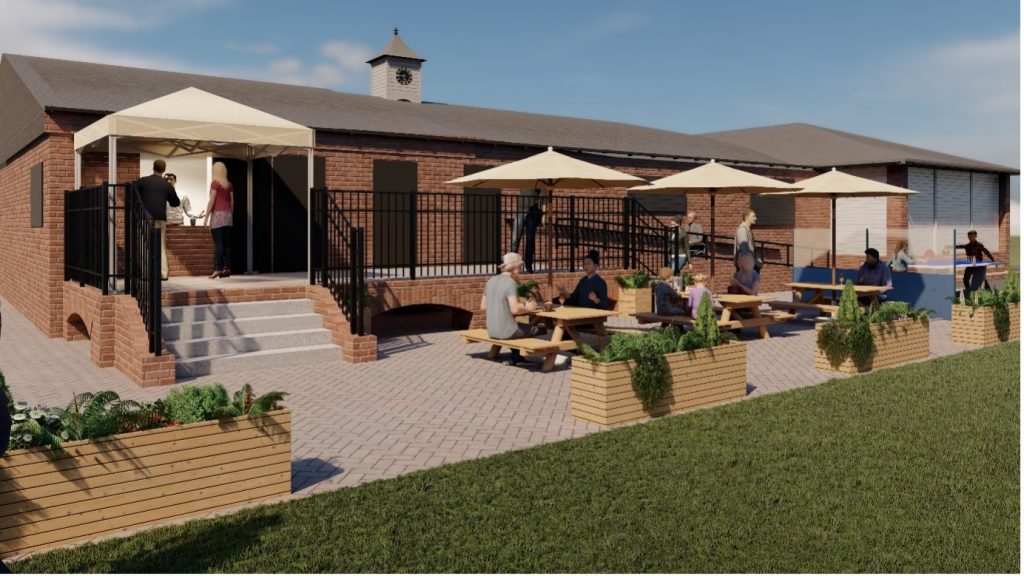 Dear Residents,
We are pleased to announce the Grand Opening of the Recreation Ground Pavilion's new facilities, on Saturday 17thJune at 10.30am.
As many of you will know, the Parish Council's Environment and Recreation Committee has been working for 12 months with the builders SCM, and with the project architect, Michael Simpson, to re-develop the north-eastern part of the Pavilion.
The improvements include: new public toilets, accessible from outside; a small drinks and food servery, opening onto a paved and landscaped outdoor dining terrace, with new benches; an outdoor table tennis table; and inside the Pavilion, a new, small events/meeting room.
We are particularly proud of the new outdoor disabled toilet/baby-changing facility, which can be accessed from the new outdoor terrace via a gently sloping ramp.
The project received an award of £73,016 from SODC's capital grants programme and a grant of £67,238 from the FCC Communities Foundation, which gives grants for community projects through the Landfill Communities Fund. A generous grant of £75,000 plus contingency was also awarded to the project by Crowmarsh Parish Council.
The new servery is equipped with two hot plates, a microwave oven with grill, a fridge/freezer, a small dishwasher and a tea urn. It can be hired for one-off events (either inside the Pavilion, or outside), by local groups/residents wishing to serve refreshments at the Recreation Ground, either on a temporary or on a more regular basis. If interested, please apply to the secretary of the Parish Council, Mrs Sue Rance (email: [email protected]). The small events/meeting room will have a table with seating for up to 12 people, a large monitor for presentations, and WiFi. Users will also have direct access to the servery, with all of its refreshment facilities.
At the Grand Opening, on Saturday 17th June, we will cut a ribbon to open these new areas at 11.00am, as a band plays "Oom-pah" and refreshments are served. There will also be a special exhibition of historic village photographs in the Main Hall of the Pavilion. This has been kindly brought together by local historian David Beasley, especially for the event. We hope this will be of interest to both long-established and new residents of Crowmarsh alike.
Do come and join us at this special celebration marking the further development of our village facilities. We hope you will agree that Crowmarsh residents can now enjoy a Recreation Ground facilities that are second to none!
Andrew Johnson