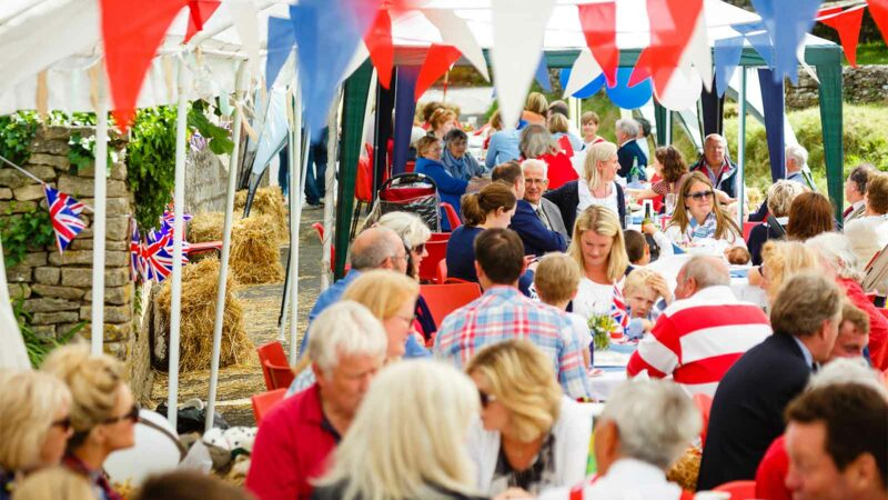 The Big Jubilee Lunch 2022 – A Crowmarsh community celebration – Sunday 5th June 2022
Please see below an update on the proposals for the Big Jubilee Lunch at the Village Hall. This will be at the end of an extended bank holiday from Thursday 2nd to Sunday 5th June.
It is proposed that:
The lunch event is from 12.30. The main entertainment will continue up to 4.30.
There will be a jazz band.
There will be various items for sale, for the benefit the local organisations that sell them:

A BBQ – Cubs and Beavers.

Cakes and hot/cold drinks – local church

Ice cream and lollies – School PTA

A bouncy castle – School PTA
There is to be jubilee cake and flower competitions for children and adults
Please bring along a picnic and blanket/chairs. Some Marquees, tables and chairs will be provided for inclement weather.
The car park will be closed and used for entertainment, including Bouncy castles, swing boats and large patio type games.
As we have no idea of how many will attend, it would be helpful if you could email Sue Rance on

[email protected]

if you currently hope to, to give us an idea of numbers. Please let her know if this changes. This would also allow Sue to update you with any updates on the event.
Please also let Sue know if you would be available to help put up and take down marquees or setting up table, chairs etc. on the 4th and 5th
If you have any large-scale games such as Jenga, or 4 in a row you would be willing to lend for the event please let Sue know.
In the evening there will be a Barn Dance. A band with a caller has been booked. This will be a ticketed event on a first come first served basis, due to a limit on numbers in the hall. Please note all those that have e-mailed Sue Rance to say they will be attending the lunch will be sent details and prices first, in due course. Until then bookings cannot be made.
We really hope you will be able to come and take part in this local event to help make it a special occasion. Please note it in your diary and let Sue Rance know if you hope to attend.
The event is being organised on behalf of Crowmarsh Parish Council