The old children's play area in the Crowmarsh Recreation Ground is over 20 years old and in need of removal or replacement. A survey to gather support from the community for a new playground and new outdoor gym outdoor gym was carried out from April to June 2017 and shows 215 members of the community in favour of a new playground and 126 supporters for a new outdoor gym. Thanks to all who took part in the survey- the survey results can be found here: Results from community consultation
The current proposal is currently going through the planning approval process. You can find full details of the application on http://www.southoxon.gov.uk/ccm/planning/ApplicationDetails.jsp?REF=P17/S4047/FUL. Comments can be made on the application up to 8th December 2017.
For the Design and Access statement, results from the community consultation, main drawings and images of the proposal please see below.
For information on the flood compensation proposals and more information on the proposals see the information submitted for planning.
Following planning it is intended to apply for grants towards the funding. Any section 106 funding towards this from new developments would be appreciated.
Proposed design plans:
Crowmarsh CRO-P01-LOCATION PLAN
Crowmarsh CRO-P02-EXISTING SITE
Crowmarsh CRO-P03-PROPOSED PLAN
Crowmarsh CRO-P11-EQUIPMENT DETAILS
Crowmarsh CRO-P13-PRESENTATION-3D images
Design and Access statement, Landscape and Transport for the proposed new playground at Crowmarsh Rec. Grd.
Playground meeting minutes:
Play area Meeting 14 June minutes
Play Area Meeting 20 April 17 minutes
If anyone would like to comment on the proposal to please send to both Andrew [email protected] and [email protected] and David [email protected]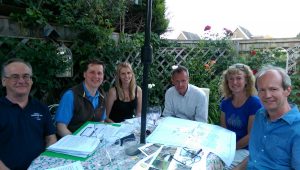 Play Area Action Group pictured above, missing Denise Hall and Edwina Johnson.