The old children's play area in the Crowmarsh Recreation Ground is over 20 years old and in need of removal or replacement. A survey to gather support from the community for a new playground and new outdoor gym was carried out Spring 2017 and shows 210 members of the community in favour of this project. Thanks to all who took part in the survey- initial survey results can be found below.
The Play Area Action Group are currently getting quotations for the new proposal and intend to apply for grants towards the funding from September. Any Section 106 funding proposals towards this from new developments would be appreciated.
Play area Meeting 14 June minutes
Play Area Meeting 20 April 17 minutes
Results from community playground consultation
If anyone would like to comment on the proposal to please send to both Andrew [email protected] and [email protected] and David [email protected]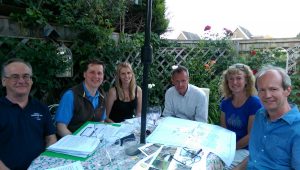 Play Area Action Group pictured above, missing Denise Hall and Edwina Johnson.